Affordable legal templates
Available on demand 24/7
COST EFFICIENT ALTERNATIVES TO TRADITIONAL LEGAL ADVICE
Advantage Legal is committed to using technology to change the way the legal services are delivered in NSW. We understand that time and cost pressures can prevent you from seeing a lawyer. That's why we've created a range of online documents which are available 24 hours a day, 7 days a week and only take a few minutes to complete.
Get Business Document Instantly
Your business is starting to take off. You need a certain level of protection, but don't have the time or budget to see a lawyer. Sound about right? Our DIY business documents are exactly what you need and are available 24-hours a day, 7 days a week, at a fraction of the cost a lawyer would charge. They are easy to use, cover a wide range of circumstances and have been drafted by experienced lawyers.
Get Free Motor Accident Compensation Advice
Unless you are an experienced compensation lawyer, it's fair to say that the NSW motor accident compensation scheme is complicated, time-consuming and quite often costly. We'd like to change that.

Our free online claim advice provides general information to people injured in motor accidents in NSW. It's a great starting point if you're looking for information about your entitlements but aren't quite ready to engage a lawyer yet.
<!============= Process Steps Template Designer 1.2.1 =============>
Select your online document

Enter the information relevant to your
online document when prompted

The completed online document will
be emailed to you instantly
Our online documents have been prepared by lawyers, however there are a few things you need to know. To provide this service 24 hours a day, 7 days a week as an alternative to traditional legal services, these documents are automatically generated based on information that you provide. Purchasing an online document through our website does not constitute legal advice or create solicitor client relationship between you and Advantage Legal Pty Ltd. Any errors or omissions that occur during the interview process will input directly into the online document. The online document does not take into account your personal circumstances and use of the document is at your own risk. Please review our terms of use.
PREFER TO DEAL WITH A LAWYER?
BOOK A FREE INITIAL CONSULTATION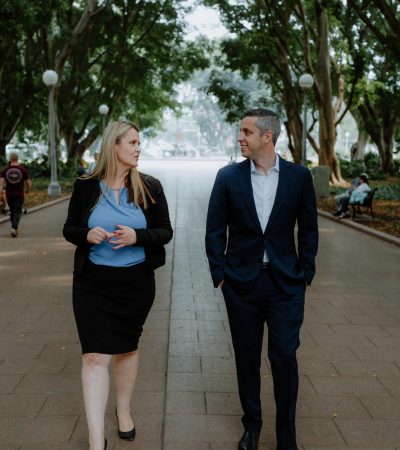 Leigh and Ana are not your stereotypical lawyers. They really are intent on doing things differently to other law firms and it is really refreshing to see. They clearly love helping their clients resolve their problems and giving them certainty in what they are doing. They are true professionals with excellent communication skills. Before consulting Leigh, I was unsure of where I stood legally. By the end of the consultation, I felt a lot more confident. I would highly recommend Advantage Legal to anyone needing legal advice or help with a legal issue.
I was treated terribly by our insurance company so sought assistance from Advantage Legal. I had a number of pre-existing issues due to prior workplace injuries which meant the insurance company didn't take me seriously when I had a motor vehicle accident. Advantage Legal got to the bottom of everything for us. They were very thorough and explained everything to us so we could understand what was going on. They helped me get treatment throughout the claim and in the end, I got a very good compensation settlement. I have no doubt that I would have got considerably less without their help. If you have been injured in an accident, Advantage Legal are fantastic and will get you a great result.
We engaged Advantage Legal to assist us with the intricacies and legalities surrounding a business venture. The team from Advantage Legal were fantastic. They provided an analysis of what we needed to know in simple language while ensuring that our internal procedures were best practice. They worked tirelessly around our busy work hours to ensure that deadlines were met and that all bases were covered. I definitely recommend the Advantage Legal team to any business needing legal assistance.
Advantage Legal consulted to IAG to assist with rewrites of IAG policies and procedures impacted by recent legislative change. They delivered the required products within our deadlines to an exceptional standard and ensured that our staff and stakeholders were made aware of the changes. They also facilitated the training associated with the updated policies and procedures which was very helpful. We really appreciate everything they did for us.
I am a co-owner of the Avenue Group and have known Leigh and Ana for a few years now. Their pragmatic and easy to understand approach to law makes business decision making so much easier in stressful situations. They always resolve complex issues promptly and give us clear direction on what to do next. As the Avenue Group continues to expand, I have no doubt that we will using Advantage Legal in future endeavours and complex business decisions. I have no hesitation in recommending their service.
We run a property management and real estate business which operates Sydney wide. Ana and Leigh from Advantage Legal have assisted us on a number of occasions from conveyancing, to guiding us through the process of an estate and even helped us negotiate the terms or our commercial lease, which ended up saving us thousands of dollars over the term. We were both impressed at how they were prepared to go the extra mile to make sure our deadlines were met. On one occasion they even attended our home after hours to ensure that a commercial contract was signed on time. It's great to know that we have lawyers we can rely on and are always contactable.
Advantage Legal has been a constant source of reliable advice for our business. We recently had to change the way our business operations were run. Leigh's insight and assistance during this time was nothing short of amazing. He was always available to take my calls, provide me with critical information when I needed it and alerted us to areas of risk before they arose. I am really grateful for all of the assistance Advantage Legal has provided us.
Leigh from Advantage Legal assisted us with contracts for our demolition and labour hire business. He took the time to understand the nature of our business, kept us informed throughout the process and gave us fixed free pricing, which was fantastic as it avoided bill shock. Long story short, we were very pleased with the Advantage Legal service and would happily come back to them again in the future should the need arise.
Advantage Legal have been providing us with legal documentation for years. They have always been really easy to deal with and quick with their service. I really like the way that they break down issues into simple terminology and offer really practical advice on how things should be implemented within my business. Their knowledge and customer service is first rate. I recommend their business unreservedly.
Advantage Legal are awesome lawyers. They have assisted our business on numerous occasions and have always made difficult issues very easy to understand. Ana always responded to my emails quickly and understood when things were urgent. If you need a lawyer, have a chat with them first. You won't be disappointed.
We needed some legal documentation put together for our gyprocking business. From the moment we met with Advantage Legal we knew we were in good hands. They spoke with us, explained what needed to be done based on our particular circumstances and drew up all the documentation without any fuss whatsoever. They were a pleasure to deal with. If you run a small business, Leigh and Ana are the lawyers you want in your corner.
As a small business owner, business disruption can be very costly. We requested assistance from Advantage Legal when an issue arose with a former employee. I can't speak highly enough of how they helped us fix the situation. Their advice was spot on and the disruption to our business ceased straight away. They really know their stuff. I would happily recommend them to anyone requiring a lawyer.
The nature of our work means that there is a need for legal advice and documentation. Advantage Legal have always been there when we have needed assistance. Their lawyers are easy going, reliable, genuine people who understand the nature of working with busy professional services businesses. They have always responded promptly to any requests, which allows us to get on with assisting our clients without delay. We are thankful to have them by our side.
Our business is constantly evolving and subject to changes in the law. Advantage Legal have helped us manage the risk of running our business and have kept all of our legal documentation updated at all times. They have also helped us chase down money owed to us, which massively helped our cashflow. I am very thankful for all of their guidance and recommend them to people needing help with their business.
I was injured in car accident a few years ago. It affected my physical health significantly and really brought me down mentally. On top of that the insurance company really made things difficult, frequently trying cut of my treatment when I needed it the most. I turned to Advantage Legal for help. They explained everything to me, got the insurance company off my back and allowed me to get on with my rehabilitation. I'll never forget the day we settled my claim. I am so thankful for everything that their lawyers did for me. I don't know where I would be now without their help.
I injured myself badly on a worksite. Leigh took the time to let me know how the workers compensation system worked and reassured me that everything would be ok. If you are like me and need help, speak with Advantage Legal, they are great.